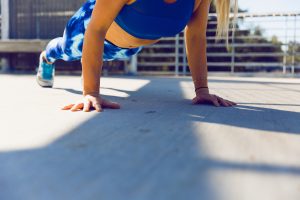 Just because you're starting a workout program at home, it doesn't mean you have to shop for bulky expensive equipment. Some people simply don't have the room or the money for them. You can get fit without a lot of equipment and avoid that expensive dust collector that often doubles as a clothes' hanger when it's not in use. That's one of the benefits of my online program is that it's designed for people who either don't have equipment or have some smaller, less expensive items.
Getting strong doesn't necessarily mean pressing iron.
Do you want strength training without the barbells or dumbbells or simply can't afford them? Bodyweight exercises are one route to go. Push ups, chin ups and squats are a start. While you might want to invest in some inexpensive doorway pull up bars or resistance bands, you can also improvise by filling milk jugs with water and use it as a kettlebell, which can also cost under $20. Canned goods can also double as weights, so open your cupboards and start working out!
Find ways to include your workout with your daily tasks.
Whether you're walking to the washer doing lunges or doing leg raises while washing dishes, you can boost the time you workout without varying your routine very much. Of course, you need the traditional workout time where you focus on working all the muscles and get flexibility, strength, endurance and balance exercises as part of your routine. Increasing your daily activity by taking the stairs rather than the elevator, is also important
Our online instruction doesn't require any extra equipment.
You may want to get a workout mat or have a special small area rug you use for your workouts, but as for big machines, you don't need them with my program. The program is designed to workout anywhere, any time, so it's super convenient. There's a balance of exercises to fit your needs and address all three types of fitness, flexibility, strength and endurance.
Consider this, even if you have a complete home gym or a gym membership, the benefits end when you travel. With a program that doesn't require all the extra equipment, you'll be ready to workout anywhere, any time.
In order to be your healthiest, you need more than just a great workout, you need a healthy diet, too. Eating healthier can boost your weight loss and energy levels.
One reason people often buy exercise equipment is that they think it will make them actually workout if they spend money on it. Most of the time, it provides no motivation. Find a group that helps you stay on track for great motivation.
Accountability is also important. It's one reason personal trainers are so popular. It's easy to skip a few days of working out if nobody knows. Find someone to be accountable to so you stay on track.