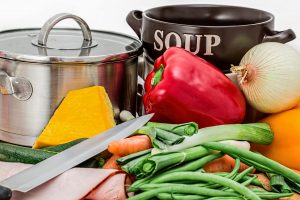 One of my clients in Florida, said they eat only crockpot foods as a road to fitness. They either make the food in the morning and let it cook all day and it's ready for a meal at night or let it cook while they sleep and refrigerate and reheat it later. You can make several healthy meals without effort or cooking over a hot stove, which is a true pleasure in our hot weather. Those who work often cook it at night to avoid the stress of coming home from work late, make more complicated recipes or be able to sample it to ensure it's fully cooked, just in case you need to cook it longer.
Here's a great healthy recipe that's easy to make.
Chili might not sound as good today, since it's super hot outside, but imagine it on those cold rainy days. YUM! This sweet potato chili is even more delicious and nutritious. One cup only has 275 calories but lots of nutrition, thanks to the tomatoes, black beans, spices and cubed sweet potato. Use one pound of ground turkey, 1onion and 1jalapeno, 3 garlic cloves, 2 large sweet potatoes, a can of black beans, a can of crushed fire roasted tomatoes and two cups of chicken broth. Season with a half teaspoon of ground coriander or a teaspoon cumin, a teaspoon of each cinnamon and kosher salt, a tablespoon of each chili powder & unsweetened cocoa powder and a half teaspoon of pepper. Dice the onions, mince and seed the jalapeno and garlic. Put it all in a pot, breaking up the turkey and cook for six to eight hours on low or half that time on high.
Was that list of ingredients too daunting. How about a simple chicken recipe and a side of salad? Have chicken will eat healthy, especially if it's skinless boneless chicken breast. Just buy a two pound package of chicken breasts, a jar of salsa—the chunky kind and measure out a half cup of balsamic vinegar. Put the breasts on the bottom of your slow cooker, cover it with your jar of salsa and add the vinegar on top. Cook it on low for six hours, but if you're in a rush, put it on high for four hours. You can shred it and mix it in the juice, serving it on a bun for an added treat or serve it with roasted veggies.
There are loads of healthy weight loss recipes ready to use.
If you do an internet search, you'll find so many healthy recipes it will make your mind swim. Best of all, the food is done and waiting for you in the evening, so there's no temptation to get carryout or stop at burger quickie. Making a full recipe can help create meals for several days. Just freeze the leftovers for another day. You'll be amazed at how it helps you save time, money and lose weight all at the same time.
Don't limit your cooking to dinner, you can make breakfast in a crock pot too. Try steel cut oatmeal, one of the healthiest types. You'll have to spray the inside of the crockpot with oil to ensure the oatmeal doesn't stick. It's one important step you shouldn't forget.
Do you have leftover vegetables that need to be used? Try some slow cooker soup. It's delicious and even if you don't eat it that night, makes a great emergency item for the freezer.
Try a slow cooker whole chicken with lots of vegetables beside it. Carrots, onions, peppers and potatoes are just a few you can add.
I offer a wealth of recipes for crockpots and other easy to cook healthy meals you can access from your phone. Give it try. You may find that you like eating healthy more than you thought.
Contact us today for more information:  craiglongfit.com