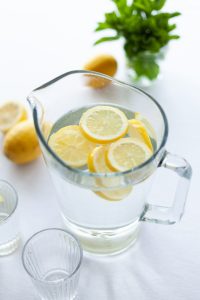 What's the latest rage in the weight loss area? It seems that one of them is an old favorite, lemon water. Although, today it's not called lemon water, it's called detox water. While it's true drinking it frequently can help you lose weight fast, there's more to the story than that. Lemon juice and water simply isn't a magic formula that makes fat fall off as soon as you start to drink it. The benefits come, not from the combination of lemon and water, but from the water itself.
Lemon water is a good substitute for your normal drink, especially if that drink is a soft drink.
Whether you opt for a sugar free soda or one with all the sugar, there are still effects from the soft drink. While the one with sugar adds extra calories, a new study shows that the one without can add inches to your waistline in the form of visceral fat. If your drink of choice is coffee with all the extras, you already know these can make your waistline grow. It's simply lower in calories than fruit juice, too. Substitute 8-eight ounce glasses of this drink for ones that contain 100 or more calories and you'll see weight start to drop off without changing anything else.
Water does a lot for your body.
In fact, most of your body is composed of water. It protects the brain by insulating it from harm, carries nutrients and keeps the body regulated, just to name a few. However, not everyone knows automatically that they're thirsty. Some people mistake it for hunger and then they eat. You know that feeling, you start thinking of a juicy slice of watermelon or aren't really sure what you're hungry for so work your way through the cupboards until you find it. Drinking a glass of lemon water or just plain water can stop that lingering hunger. Staying hydrated also helps your body break down fat and even help with water weight and bloating.
Drinking water can boost your metabolism.
If the water is cold, your body needs to burn calories to get it back to normal temperature. Improving your hydration can boost the energy center of the cell, the mitochondria and that can lead to improved metabolism. The higher your metabolism, the more calories you burn. One study showed that it increased metabolic rate by as much as 30% for 30-40 minutes.
Lemon water, just like regular water, can make you feel fuller and is good to drink before you eat. You'll eat less and that's what makes losing weight easier.
If you're not a water fan, lemon water and other fruit or vegetable infused waters can make you one. They change the taste of water and the floating fruit or slices of vegetables add a bit of elegance to the drink.
A small study of 48 adults with half drinking a half liter of water before a low calorie meal and the other half simply getting the low calorie meal, found that after 12 weeks, the group with the premeal water lost 44 percent more than the one that didn't have the water.
Even though lemon water doesn't do anything more than dress up ordinary water, it's still good for weight loss, since staying hydrated is.
For more information, contact us today at Craig Long Fit