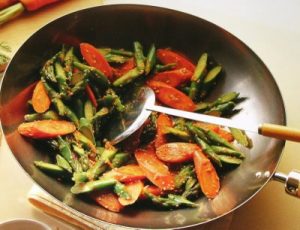 Contrary to some people's belief, food can taste good and be healthy. In the past, there's been food offered that was loaded with vitamins and processed to include plenty of protein and other nutrients. Those products often tasted like vitamin soaked cardboard, giving healthy food a bad reputation. Seriously, there's no reason to eat "processed" healthy food when Mother Nature provides it right on the vine, also providing herbs that add a gourmet taste and healthy nutrients to the mix.
You need to start with healthy ingredients.
Scour your fresh fruits and vegetable section for the healthiest foods. Even if a bag of kale chips or a power bar are described as healthy on the package, you can do far better! I love the vegetable noodles made with those spiralizers. One simple salad I enjoy making uses sautéed or fresh zucchini noodles, chopped Black Krimm tomatoes—an heirloom variety—(the black varieties of tomatoes have more antioxidants), colorful sweet peppers, cucumber, celery and onions. Sometimes, I toss in some feta cheese, mozzarella or air baked chicken pieces. I toss it all with a homemade vinaigrette that includes herbs and spices. It's super quick and easy, plus very healthy.
Add lots of Omega-3 to your cooking.
I love wild salmon and it's an exceptionally good way to boost your omega-3 fatty acids, something the average American diet is far lower in than it should be. It's easy to make, just drizzle some olive oil, salt, pepper sprinkle fresh herbs and create a foil packet to bake it at 400 degrees for ten minutes. If you don't want to spend a lot of time in the kitchen you can grill it.
Make your salads healthier and yummier.
Green salad may sound boring, but it doesn't have to be. Use a spring mix with some spinach added for a colorful, nutrient loaded salad. Add some berries, onions, walnuts or pecans and/or tomatoes. Sometimes I add grilled vegetables to mine. Parmesan cheese is a great topper. Those berries give it zing and some sweetness. For the dressing, I use a variety of healthy homemade vinaigrettes or a Greek yogurt ranch that's particularly tasty. .
If you include beef or chicken in your meal, choose organic grass-fed beef and free range chicken to boost the health benefits.
When the weather turns chilly, a robust homemade soup is always welcome. If you have fresh vegetables left over or even cooked ones, everything can go in the soup and taste delicious.
One of my favorite treats is grilled asparagus with lemon. Toss the asparagus in olive oil, grill or pan fry until tender and drizzle with butter and lemon. The butter should come from grass fed cows. Salt and pepper to taste. You can even sprinkle a little Parmesan.
Introduce your family to spaghetti squash. It's so simple to make and hundreds of ways to serve it. Cut in half, clean out the seeds and lightly coat with olive oil. Roast for approximately 40 minutes and serve with tomato sauce, roasted broccoli, mozzarella and some fresh basil for a delicious and healthy taste.
---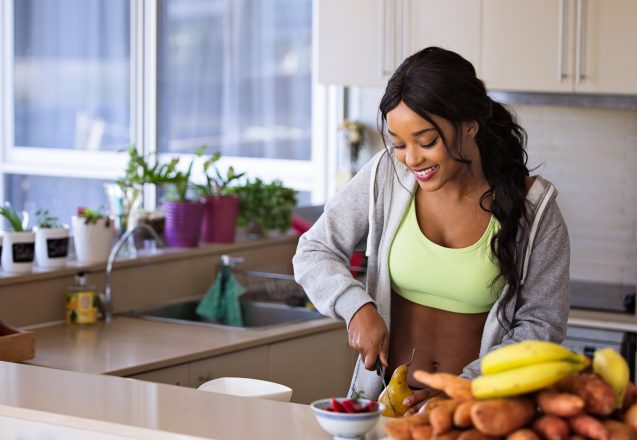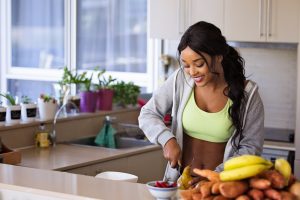 I've watched clients roll their eyes when I suggest adding meal planning and preparation to their fitness program. While meal planning doesn't necessarily mean you prepare all your meals on the weekend, it's the way most people with who work outside the home do it. It's a great way to have your meals and snacks prepared ahead of time so there's no excuse for take-out or a quick microwave meal. It means the meals will be easy to make in a few minutes, because in most cases, all you have to do is warm them.
Creating menus for the week and having all the ingredients is the key.
If you're like most people, including myself, at the end of a long day at work, preparing a meal or even thinking about what you want to eat is a bit more than you can sometimes handle. When you plan your meals ahead, during a quiet, restful time, you can plan to include healthy foods that are packed with nutrition and lower in calories. You can also include ways to use all the food you buy so none goes to waste.
Spending one day making meals can save hours of cooking during the week.
Preparing your meals all in one day saves a lot of time. While some foods are cooking, you can chop and prepare others, like fresh vegetables, to add to the food later. For instance, if you bake a chicken, you can use some parts to eat as a main course one day, with some left over to create a salad for dinner. Having plenty of vegetables cut into serving sizes makes meal preparation easier. Some can be snacks, while others only require minimal preparation to add to main dishes. You can even double the recipes you make and store some in the freezer for another week, freeing time later.
When you plan and prep meals ahead, you'll have the optimal serving sizes.
When the food is in front of you and you're starved, it's not the time to decide how much you should eat. Being hungry also isn't the time to shop. You can solve both problems by making these decisions ahead of time and having the food already in portions. It also means you'll plan for leftovers, so there's not going to be questions about those dishes left in the back of the refrigerator that are either green meat, brown vegetables or your child's science project.
Meal planning means planning around sales and coupons. Add that to the use of leftovers and you have a savings at every meal.
When you plan and prepare meals ahead of time, you'll also save on takeout and junk food. If you're not shopping when you're hungry, you'll be less likely to grab snacks off the shelf.
If you find you still have leftover vegetables that you won't be using during the week, don't fret. Make soup instead. Soup not only uses up those extras, it's an easy way to create nutritious meals by adding a salad and/or a side.
When you plan ahead, you'll reduce the stress that comes from not knowing what you're going to eat next or the hassle of preparing it. It can make meal time something to look forward to rather than dread.
---
---
---
---
---
---
---
---
---